A modern campus empowering Academics
& Sports & Life Skills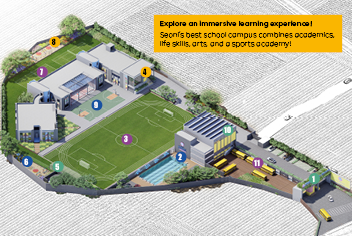 An wholesome learning experience
Podar Learn School also focuses on academic excellence and overall development of the students. The school provides a well-rounded education that helps students become better human beings. With a combination of sports, academics, and overall development, Podar Learn School is the perfect place for children to grow and succeed.
The modern campus offers digital classrooms, auditoriums, and a full-fledged sports academy that includes a football ground, cricket pitch, basketball court, tennis court, and swimming pool. Go on, let your child immerse within an environment apt for learning.
Explore an immersive learning experience!
Enabling the modern approach
to learning
The campus of Podar allows for holistic learning amidst the the most modern infrastructure in the region.